LX62THA

LX63THA

Effective Tube Cutting Length

6500mm/9200mm

6500mm/9200mm

Laser Output Power

1000-6000w

Effective Round Tube Cutting Diameter

Φ20-220mm

Φ20-320mm

Effective Square Tube Cutting Diameter

□20*20mm-□150*150mm

□20*20mm-□220*220mm

MAX Weight of chunk

170KG

400KG

Rectangular tube

Edge Length

20-170mm

20-270mm

Outer Circle Diameter

≤230mm

≤330mm

X/Y-axis positioning accuracy

0.03mm

X/Y-axis repositioning accuracy

0.02mm

X axis maximum speed

100m/min

Y axis maximum speed

95m/min

Chunk speed

100r/min

Chunk type

pneumatic

Weight of whole machine(About)

8000KG

Weight of whole machine include loading equipment

13000KG

Machine size

12000*3100*2450mm

12000*5000*2450mm
1. Semi-enclosed design, equipped with automatic lifting doors, which is convenient and at the same time guarantees the safety of workers
2. Heavy-duty welded bed, it can meet the high-speed operation of the machine without shaking
3. The front end of the machine is surrounded by design to improve the dust removal effect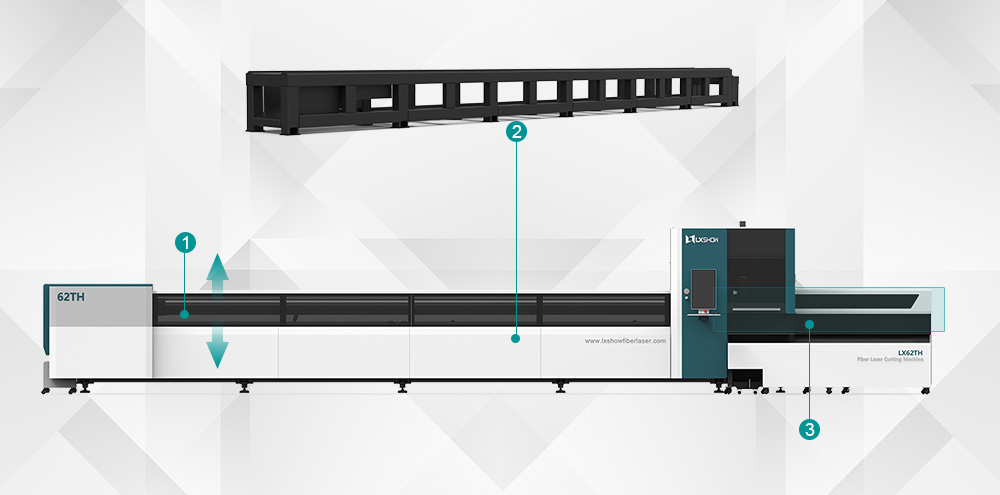 A Double exhaust system to ensure fume extraction effect, matching front and rear chuck, step by step, level processing.
The rear chuck equipped with a waste collection system.
B Follow-up support component system. During the cutting process, it can be ensured that the support frame can always follow the pipe to prevent pipe cutting errors caused by pipe deformation.
The front end is equipped with front, rear, left and right dual follow-up modules to ensure cutting accuracy, and automatic tilting and blanking settings to prevent pipe scratches.
C The machine is equipped with Bochu special chuck, which has better dynamic performance, speed can reach 80r/min, acceleration can reach 1.5G